Heading to NAB Show in Las Vegas April 8-11? Make the Dejero booth (C2025) a must-see on your list! We can't wait to showcase the latest, most powerful EnGo to date, support for SMPTE 2110, and enhancements to contribution, distribution, and connectivity solutions. Here's a preview of what you'll see at the Dejero booth.
EnGo 1.3 mobile transmitter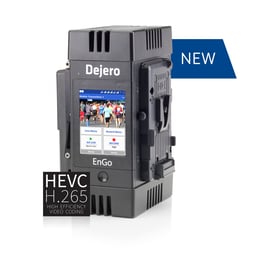 The latest Dejero EnGo mobile transmitter features more processing power to deliver unique content adaptive encoding and HEVC compression. Unlike other field transmitters, EnGo encoding now automatically adapts to content complexity as it is captured and supports up to 20 Mb/s bitrate for live transmissions and 1080p 50/60—ideal for sports. Attendees can also see the further enhanced industry-leading auto-transport and adaptive bitrate encoding technology with HEVC compression, that provides even better picture quality in a wider variety of scenarios.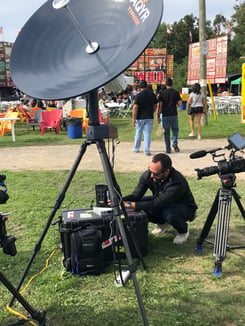 CellSat connectivity service
This multi award-winning blended cellular and satellite connectivity service now comes with additional features that provide enhanced reliability, multiple antenna options including portable flyaway and vehicle-mount options, and additional connectivity plans to suit the varied needs of customers. It is now also available in Europe.

CellSat has instilled a new-found confidence in broadcasters when it comes to the connections available to them in the field. It solves challenges such as network congestion or degrading cellular performance by intelligently blending cellular and Ku-band IP satellite, fusing the best attributes of these transmission paths for the highest quality live shots.
First-mile and last-mile connectivity
Access to reliable connectivity has become even more critical for contribution and distribution. Attendees will see new features added to the Dejero GateWay solution, including reliable connectivity on any type of IP connection and faster file transfer methods.

GateWay provides high-bandwidth connectivity by blending together multiple connections such as cellular and satellite and other wireless technologies—creating higher throughput and greater reliability over a secure connection.

With access to reliable Internet connectivity on location, field crews can perform more activities remotely as GateWay provides the extra bandwidth needed to quickly upload and download large files as well as access newsroom and MAM systems, cloud services, and private networks remotely. Crews can spend more time in the field and less time commuting back and forth between assignments.

Dejero will also explain how the GateWay solution can be used for backup connectivity as part of a disaster recovery plan, and other broadcast and media use cases that solve first-mile/last-mile connectivity challenges.

IP-based content distribution
The Dejero IP-based content distribution solution simplifies the sharing of high-quality, low-latency, real-time video feeds. It offers large scale cloud-based content sharing and distribution. Broadcasters, production companies, and studios can quickly, easily, and cost-effectively distribute content from any location, to any location, at any time. The solution leverages Internet infrastructure to simplify global distribution and features adaptive bitrate encoding technology to minimize bandwidth requirements.

Cloud management
Dejero Control is a cloud-based management system that gives broadcasters the ability to centrally manage ingests, manage content routing and distribution, monitor and manage field and data center equipment, and view analytics and reports that help manage data usage and costs.

New features include roaming management and automated and customizable metadata— which allows metadata to be automatically added to video files at the time of ingest from an easy to build template, so clips are easy to find during editing and MAM workflows. Attendees will also see the new 'Find a Provider' functionality, that allows organizations to quickly and easily find freelancers and other service providers to cover breaking news stories and live events across the globe.

To see this and more exciting announcements at the show, visit Dejero at booth C2025. See you in Vegas!