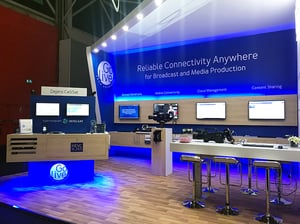 It's that time of year again where some of the world's most influential media, entertainment, and technology players gather together to showcase their latest and greatest advancements in tech. Taking place from September 13 to 18 in RAI, Amsterdam, IBC will attract over 55,000 attendees, 100+ sessions, and feature 400+ inspirational speakers including some game-changing keynotes from across the globe. Each year, the conference attracts over 1700 exhibitors and facilitates an engaging networking opportunity for attendees who leave feeling inspired and in-tune with industry-leading conversations. If you haven't already registered, you can get free entry into the exhibits with Dejero's guest passcode 20188.
In the meantime, here are some things to look forward to in preparing to make the most out of your IBC2019 experience:
Networking.
IBC provides ample opportunity to network and build relationships with suppliers and customers at this world-class exhibition. Take a look at the IBC exhibitor list beforehand to get an idea of who you want to make time to engage with. This will ensure you have dedicated time planned to connect with exhibitors and experience show-floor demos of the latest products and services that most interests you. Of course, we'd love to meet you too! You can get in touch with us to book some time to connect prior to the exhibition by clicking here, or come visit us at the show. Take advantage of having some of the world's most innovative companies altogether in one spot and plan who you want to meet ahead of time. Bring your business cards, lots of energy, and a big smile!
Learn something new.
With a look into the future of the broadcast and media industry, you'll have the opportunity to connect with some of the most forward-thinking innovators in the world and experience the latest innovations they're showcasing Keynotes, live demos, product launches, press conferences, and more; a wealth of knowledge at your fingertips to learn about and get inspired.
Be sure to catch Todd Schneider, CTO, Dejero, and Ian O'Connell, Director, Musion 3D, talk at the IABM Future Trends theatre talk about the world-first experience of working with Vodafone to display a human size hologram, live on stage a rockband. They will take the stage on Saturday, September 14, from 10:40 a.m. to 11:00 a.m. in the Future Zone Theatre Hall 8, Stand F40.
You can also find Todd speaking at the IABM 5G panel on September 14, from 2:30 p.m. to 2:50 p.m. Location is still to be determined so be sure to follow us on social for updates.
Attend the Innovation Awards Ceremony.
Some of the most anticipated and high-profile advancements in content creation will be showcased during this year's Innovation Awards. Ten finalists in 3 categories have shown astounding development and leadership in the field while also excelling in technical content distribution for their ideas. One finalist, Vodafone in Romania is being recognized for a world-first and Dejero is proud to have played an important role in providing the technology and servers for enabling an 11-year-old guitarist to join a rock band on stage through a 5G remote link and holographic projection. You can watch the impressive "in the making" video here. Dejero is also proud to be shortlisted for a BaM Award under the Project, Collaboration or Event category for the same 5G hologram display, and again for various CSI Awards. The Innovation Awards are a highlight at IBC for attendees who are interested in seeing some of the most cutting-edge technology in the media and entertainment field. We highly recommend carving out time to watch it all go down.
Catch the big screen.
Another highlight at IBC is the Big Screen. With something new and exciting being showcased daily, this program is definitely something to add to your calendar while visiting. From Toy Story 4 to Game of Thrones, this world-class forum covering insights from the creatives and technical deep dives, the Big Screen event will take you behind the camera for this one of a kind experience! You can follow along the conversation happening on social media at #SeeItDifferently, which encompasses the mission to display how innovation in tech is allowing viewers to consume stories like never before.
Dejero is excited to be at IBC2019 showcasing the latest connectivity solutions at stand 11.C15. More detail about what Dejero will be showcasing at the exhibition can be found here.
See you there!