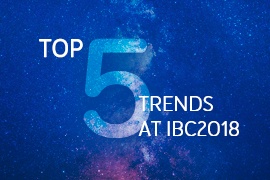 Attending the IBC2018 conference at the RAI in Amsterdam, I had the opportunity to join sessions led by business leaders, global game changers, and disruptors in the media, entertainment, and broadcast technology industries. From the sessions I attended, and ideas shared, there were five trends that stood out.
Next level IP
Service virtualization is starting to emerge. The services and workflows that can be built, especially in the cloud, are taking the industry to the next level. The ability to be agile and enable new workflows is lucrative for organizations. More flexible approaches to creating new IP-based workflows allows more efficient content generation and delivery.

AI
AI and machine learning are beginning to find practical applications in broadcast. They are driving efficiency improvements by using technology to do the work for us, while improving accuracy. Content adaptive encoding—a new feature Dejero previewed at IBC2018 that automatically adapts the encoding based on the complexity of the video that's being captured—has potential to be AI driven in the future. For less complex content, this feature gives a substantial video quality improvement because we can encode at higher resolutions while still meeting the bit rate constraints that can occur in remote contribution scenarios.

Metadata
The volume of content being created has grown exponentially. There is a growing need to manage more content. Metadata enables and improves the way we navigate and automate this content, saving considerable time and effort for broadcasters when they need to search for content. As AI continues to develop in the industry, metadata can also be used to power AI workflows further improving efficiencies.

With the Dejero Core 5.1 update, we have introduced a new automated and customizable metadata feature, which enables broadcasters to save time when managing and searching for ingested content. Broadcasters can now create custom metadata templates within Dejero Control, Dejero's cloud-based management system. With relevant auto-generated metadata defined by the templates, ingested content can be quickly identified, instead of manually searching and tagging clips. These enhancements will help broadcasters save time and reduce costs when contributing content from the field, especially when combined with IP-based workflows.

The cloud is here for broadcast
The cloud is here and being used for IP-based contribution, virtualized live production, and for OTT distribution. While it is still early days for cloud based services, the scalability, pay-as-you-go, and access to cloud based services (like AI) will certainly help to drive workflow efficiencies and cost savings in the future.

Dejero was early to the cloud with our MultiPoint and Cloud Server products, both of which have proven their value in daily use for live video by large broadcasters. At IBC, Dejero collaborated with Microsoft Azure and other industry partners to demonstrate a live production workflow in the cloud that enables near live editing and access to key Azure services for automation and content storage.

5G hype
There has been significant buzz that 5G is here for broadcast, but the reality is we are not quite there yet. Initial deployments of 5G are expected to be for fixed-installation applications because of the size and power consumption of the equipment. Spectrum allocation for the 5G (especially in the C-band) is still underway and not yet finalized. Carriers are rushing to be "first to 5G" but with practical chipsets for handsets and modems not finalized until early to mid 2019, it is expected to be late 2019 or early 2020 before the first true 5G NR devices will be deployed. Given the cost to install 5G technology and the large installed base of LTE, we'll be using a mix of LTE and 5G for some time to come.