Maybe you're already using recorded clips in your workflow. Maybe you're not. In any case, there's a lot you can do on the Clips page in Control. Here are three reasons why recorded clips can be helpful and make a difference to your workflow:
1. The Clips page can do more than you think.
On the Clips page, you can: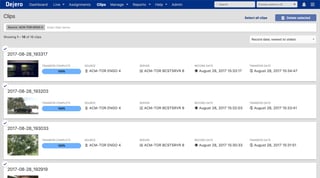 Play out a clip to the assigned outputs
Select and delete multiple clips
Sort the clips the way you want to view them
Filter and search the list by name
Rename the clip
Better organization of your clips means you can find them faster and it creates a more efficient workflow. If you're new to using clips or haven't used them recently, the redesigned Clips page makes it much more easier to use.
2. Clips can move into the editing and playout workflow faster.
Customers like to use Store & Forward for a number of reasons but that doesn't mean getting the clips into the workflow quickly is less important than live shots. With that in mind, our Core software specifically addresses getting your clips into your workflow faster.
On the transmitter, you can set the transfer to start while the recording is still happening–resulting in a shorter delay between the end of the recording and a completed transfer. With this feature, the transfer may complete within seconds of the recording ending. Combine that with safer transfers managed through the centralized cloud platform and you'll see clips and files transferring faster without impacting live workflows.
3. Watch folders can grab clips right from the server.
This little known feature has been available for some time, but not everyone is taking advantage of it. Setting up watch folders to automatically copy clips off of the server can get those clips into your editing workflow much faster.
Discover how the producers of "The Runner" – the

reality competition TV show created by Matt Damon and Ben Affleck

–

used watch folders to help them air more content faster in this customer success story.
This is just the beginning of what you can do with recorded clips. There are a number of different things you can do in Control that can make your workflow more efficient. Explore the Clips page in Control and comment below if you have any questions.
Until next time ...