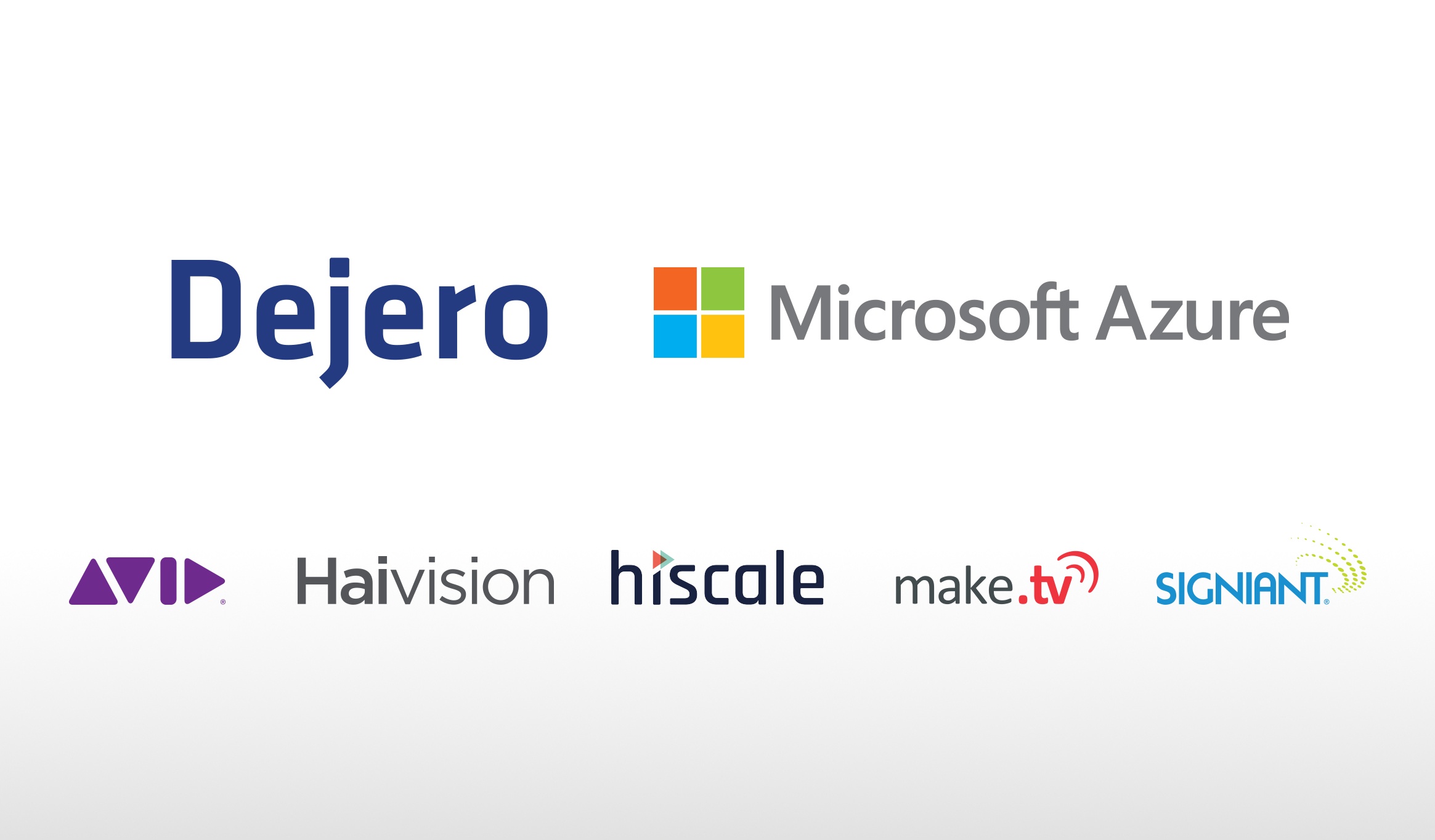 Broadcasters are continuously looking for more ways to scale and be more agile. 'Live production in the cloud' is a key trend that broadcasters are starting to embrace including using more IP workflows and doing more in the cloud with less fixed location resources.

Recognizing this trend, Dejero, Microsoft Azure, Avid, Haivision, Hiscale, Make.TV, and Signiant have joined forces to demonstrate live ingest and editing in the cloud at IBC2018. Working together, these innovative technologies enable broadcasters to decentralize their operations in Azure and essentially enable a 'station in the cloud' accessible from anywhere.
The showcase at IBC2018 demonstrates how live production workflows in the cloud can deliver greater flexibility, scalability, and budget efficiencies to broadcasters and involves multiple partners that play key roles in the live production workflow.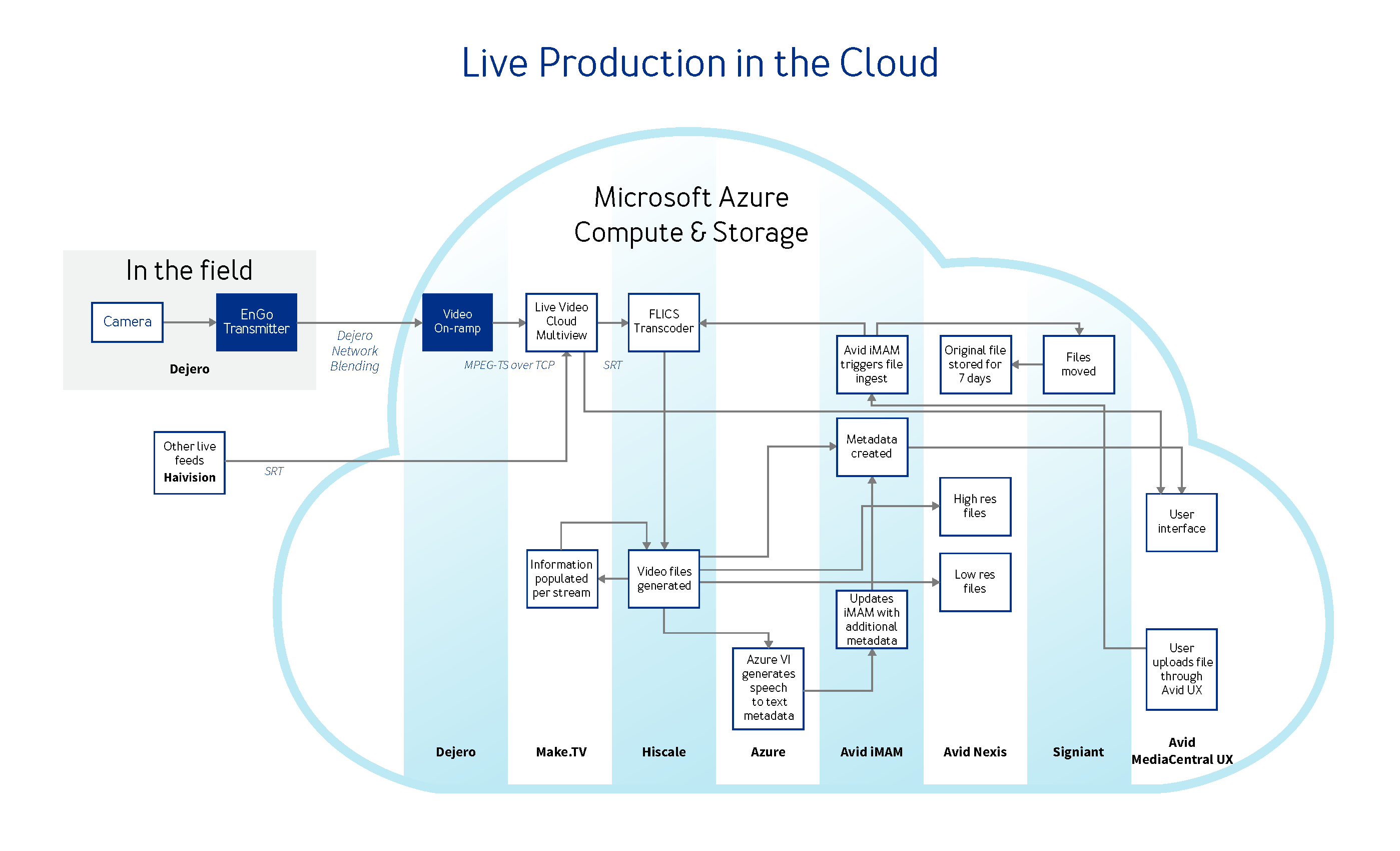 The workflow
From the field, a live video stream is sent to the Microsoft Azure cloud platform from a Dejero EnGo mobile transmitter. Dejero's video on-ramp technology dynamically receives the stream in Azure, transcodes it, and delivers the standardized stream to Make.TV's Live Video Cloud, which is used to curate, and route the content to any number of destinations from within Avid MediaCentral Cloud|UX. Though not part of the demonstration at IBC2018, another tested ingest path involves Haivision Media Gateway sending DVB-C streams from an on-premises Harris video distribution system via SRT into SRTHub where it is routed into Make.TV's Live Video Cloud. Hiscale's cloud-based transcoding solution enables live recording into customers' editing and asset management environments where high and low resolutions files can be stored in Avid's cloud-based Nexis storage. In addition, a second file-based workflow involves uploading files using Signiant accelerated file-upload app in Avid MediaCentral Cloud|UX. These files are transcoded by Hiscale on ingest and stored as assets along with associated metadata in Avid iMAM. The overall solution presents users with a single interface, pulling relevant data from collaborating partner technologies, while leveraging the compute and storage power of Azure.
Dejero – IBC Stand 11.C15
A low-latency live feed from a Dejero transmitter that's typically deployed in the field can be transported over blended IP connections from multiple network providers and received in the cloud by a virtualized Dejero receiver. Dejero's intelligent video on-ramp technology re-assembles, decodes, and transcodes the video stream to MPEG-TS over TCP. Within Microsoft Azure, broadcasters can enable new customizable cloud-based workflows including the curation and routing of content, transcoding, near-live editing, automated closed captioning, metadata enrichment, and distribution.

"Dejero recognizes cloud as the next frontier for broadcasters and is dedicated to helping them get the most from their IP-based workflows, but we believe this will take more than just one company, it will take collaboration across the industry to succeed," said Bogdan Frusina, founder of Dejero. "By working closely with Microsoft Azure Media Services and with other innovative industry partners and customers, we can deliver on a vision that enables broadcasters to take advantage of a highly flexible infrastructure that scales according to their needs—whether that be for a month, a day, or an hour at a time, while reducing costs, and expanding their revenue options," Frusina explained.

Microsoft – IBC Stand 1.C27
"The adoption of cloud-based workflows, especially for live content has been hindered by connectivity concerns" added Sudheer Sirivara, General Manager for Media on Azure at Microsoft. "Dejero addresses this challenge by efficiently moving live content to the cloud where it can be managed, processed, and ultimately distributed anywhere. We're excited to partner with Dejero, Avid, Haivision, Hiscale, Make.TV, and Signiant to showcase end-end workflows in Azure that help broadcasters scale their operations quickly, cost effectively and efficiently."

Avid – IBC Stand 7.B55
"This collaborative technology demonstration highlights how mobile workflows are evolving by leveraging blended cellular technology to deliver live feeds from the field directly to an Avid MediaCentral platform deployed in a cloud environment," said Ray Thompson, Director of Broadcast and Media Solutions Marketing, Avid.

"Supported by our open MediaCentral approach, aggregation of content feeds, regardless of where they are coming from, are easily managed with MediaCentral l Cloud UX. When deployed in Azure cloud, media organizations can use this powerful combination for elasticity, scalability, and availability to turn around more compelling stories faster to more outlets."

Haivision – IBC Stand 14.B06, B08, & B10
Haivision's low latency streaming solution SRTHub, leveraging the SRT protocol that they developed and recently open sourced, manages and routes video for cloud-based broadcast workflow on Microsoft Azure.

"Haivision has been working closely with Microsoft and their partners to bring low latency video workflows to Azure," said Peter Maag, chief marketing officer, Haivision. "Our work on the project is a great example of how organizations can leverage the power of SRT to lower costs and extend their workflows throughout the broadcast ecosystem."

Hiscale – IBC Stand 2.A24
Hiscale's cloud-based transcoding solution enables live ingest into the customers editing and asset management environments. Processing incoming streams into a production and proxy format, Hiscale checks the files into the CMS to enable growing preview of lores for the journalist. At the same time, the flexible Hiscale transcoding solution takes care of creating a high resolution, broadcast standard house format to make editing of growing files possible.

"Centralizing production environments in the cloud with solutions that leverage the flexibility of these new technologies is one of the most game-changing waves hitting the broadcast industry since moving from tape to file-based workflows," said Tilo Skomudek, CEO, Hiscale.

Make.TV – IBC Stand 14.A24
"News travels at the speed of light, and today's workflows need to reflect this. We have designed our Live Video Cloud solution to enable any broadcaster and content producer to easily acquire content from any source at scale, use the cloud infrastructure of their choice and deliver assets in the right format and within the tight timeframes of breaking news channels, whether live on air or recorded," commented Andreas Jacobi, CEO and co-founder at Make.TV.

Streamlining workflows and enabling broadcasters of all sizes to benefit from the power of the cloud, Make.TV's Live Cloud simplifies the curation, routing, and distribution of hyper-local live video sources from anywhere in the world to any destination. The solution opens pathways for video to be shared between content creators, producers, programmers and advertisers with scale, speed and relevance previously not possible. It makes it easy to get breaking news content quickly from professional reporters and citizen journalists, handle remote production and deliver localized content across broadcast, online and social media networks.

Signiant – IBC Stand 14.B23
Signiant technology played a critical role in providing the fastest, most reliable and secure way of transferring high value assets into Azure storage. "Signiant was a pioneer in leveraging cloud technology to meet the unique needs of the Media & Entertainment industry," said Cory Bialowas, Signiant's SVP Product Management. "Now that the cloud is becoming mainstream in media, we're excited to collaborate with other cloud leaders to help architect and showcase the future of production."

Signiant's intelligent file movement software helps the world's top content creators and distributors ensure fast, secure delivery of large files over public and private networks. Built on patented acceleration technology, the company's on-premises software and cloud-native SaaS solutions allow businesses of every size to optimize mission-critical file transfers between users, systems, and the cloud.

To see a demonstration of the live production in the cloud workflow, visit Dejero at stand 11.C15 or Microsoft at stand 1.C27 at IBC2018.