Christian Bale's Bruce Wayne, Robert Downey Jr.'s Tony Stark, and Bogdan Frusina's Dejero all debuted in 2008. Where are they now?

The year was 2008. Bruce Wayne kept us on our seats treading a fine line between heroism and vigilantism battling evil villains in the premier of The Dark Knight. Billionaire industrialist and genius inventor, Tony Stark astonished us when he built his armored suit of iron to combat crime and terrorism in the debut of Iron Man. Meanwhile, fresh-faced entrepreneur Bogdan Frusina was focused on the development and refinement of innovative network blending technology when he launched Dejero.
Like Wayne and Stark, Frusina was determined to help people by solving a problem. Being part of many Canadian and US political campaigns, he observed how difficult it was for journalists to get their stories back to broadcast stations and stay connected while on the campaign trail.
The vision? Reliable connectivity anywhere. The connectivity crusader founded Dejero in June 2008, since paving the way for many innovations and broadcast firsts. Dejero continues to develop its technology focused on delivering connectivity solutions with paramount user experience and superior results.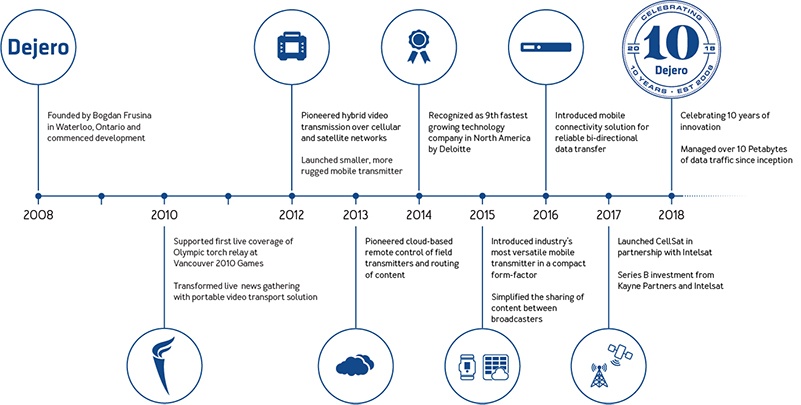 Where They're Headed
While I can't speak for the future of Wayne and Stark—I'll leave that to DC and Marvel—the future of Dejero looks exciting. With over 120 team members and growing, the Waterloo, Ontario based company has made a mark in the broadcast and media market, providing ground-breaking solutions to transport video from remote locations, and connect field crews with their stations.
But why stop there? In a world where mobile connectivity is changing the future of how we communicate and share content and information, reliable connectivity is more important than ever before. With plans to continue to innovate and enhance connectivity solutions in broadcast, Bogdan and the entire Dejero team are also working on extending its blended connectivity expertise to a broader range of industries and applications. The Dejero sequels are just beginning.