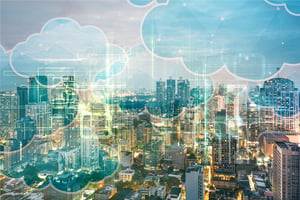 If a television station were to try and set up a traditional data storage infrastructure from scratch today, comparable to the cloud, it would likely never recoup its investment. Dejero recognizes cloud as the next frontier for broadcasters and is dedicated to helping them get the most from their IP-based workflows. The cloud provides a scalable, flexible infrastructure achievable without large capital investment.
The growing size of files and exponential need for processing means broadcasters must store content, like archives and current productions. Obviously, this content needs to be stored in the best possible quality, so the industry is using high bitrate codecs and embracing 4K/UHD and HDR.

Transformation is happening
A hybrid world is emerging, where on-premises infrastructure and cloud infrastructure work together. This could present an opportunity to trial a new channel or meet short-term needs. In the cloud, additional content can easily be distributed across additional channels. New revenue opportunities can be created in a non-managed infrastructure: the cloud is managed for you and is available whenever you need it.

Cloud processing will also become crucial to metadata enrichment. For broadcasters with an extensive archive, comprehensive content metadata is central to maximizing its monetization. Artificial intelligence can identify detailed information within the content, including image and sound recognition as well as speech detection, to enrich the metadata.

The cloud will be transformative, because it will allow smaller players and new entrants to the market to grow really fast, without having the baggage of the big broadcasters. One of the biggest roadblocks to becoming a large media enterprise has always been the capital investment needed to get a good quality signal on air.

Cloud adoption is accelerating
The cloud—and IT technology in general—is not coming to the broadcast and media industry, the industry has moved to IT. Analog barely exists in our industry; nearly all content storage is electronic. We sit as part of the IT industry now, taking advantage of its economies of scale and, of course, the ability to use the cloud.

One of our biggest technical concerns in media has always been delay. We must have real-time precision, and we would like it to be with minimum latency. That is why, even today, we cannot run all our processes in commercial off-the-shelf CPUs and GPUs, and still have to build FPGA-based hardware to provide power.

I see cloud companies adopting a virtualized FPGA solution to offer more power. At that point I do not believe there will be many functions we cannot then adopt in the cloud. The one limiting factor today is connectivity.

There has not been a standard to manage video input into the cloud, to be able to run the workflows day-to-day. That is where Dejero is innovating to make a difference.

At the same time, we need to deliver this content to multiple users, who each have different technical requirements: video and audio codecs; wrappers; metadata, and more. Meeting all these demands, and ensuring that each is in the correct format, must be an automated process, ideally suited to the cloud.

Taking away the need for capital investment and moving to an operational model, spinning up and shutting down processes as needed, the cloud will enable someone—even out of their garage—to run an enterprise-grade media operation. They will drive revenue much quicker, from a significantly lower cost base. That changes the dynamics.

Connectivity is required for the cloud to be successful
Dejero is in the business of providing connectivity, using whatever IP-based transmission path is available at the time, switching from one type of connection to another, or blending them together. This is the technology that provides the uptime that broadcasters need, and it will change the way people look at connection. Dejero is dedicated to helping broadcasters get the most from their IP-based workflows and cloud infrastructure.

Industry collaboration
For live production in the cloud to be successful and scalable, collaboration will be key. Dejero is working with innovative technology and broadcast partners to make live ingest and production in the cloud a reality. A new workflow will be demonstrated at IBC2018 (stand 11.C15) that delivers high-quality, low-latency live video to the cloud. This new solution enables greater efficiencies for broadcasters in their content creation, management, and distribution workflows as they move to IP and the virtualization of live production using the cloud.