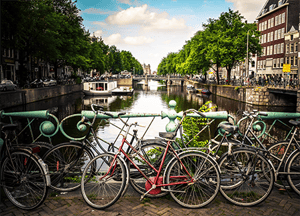 The world's most influential media, entertainment & technology show, IBC2018, is just a few weeks away. Taking place in RAI, Amsterdam from September 13 to 18, there's a lot to get excited about. The IBC Conference kicks off on September 13 and runs through September 17 featuring over 400 inspirational speakers across 90 sessions. On September 14, the IBC Exhibition opens where you can network and discover the latest trends and technologies. Not registered yet? Get free entry into the exhibits with Dejero's guest pass code 20188. To make the most of this highly anticipated event, here's a few tips to keep in mind when planning your time.
Learn and get inspired
A look into the future of the broadcast and media industry, you'll have the opportunity to connect with some of the most forward-thinking innovators in the world and experience the latest innovations they're showcasing that will continue to disrupt–what tech is all about. Keynotes, live demos, product launches, press conferences, and more; a wealth of knowledge at your fingertips to learn about and get inspired.

Don't miss Bogdan Frusina, founder of Dejero, who will be participating in the panel at Newtec's All-IP Newsgathering session featuring insights from the field with Sara Shepherd from BBC. The 90 minute session will take place from 11:00 am to 12:30 pm on September 15 in room G106 (1st Floor).
Schedule meetings and network
With over 1700 exhibitors there's a lot to see. Be sure to check out the IBC exhibitor list before the event and schedule meetings with exhibitors you know you want to connect with. This will ensure you have dedicated time planned to connect with exhibitors and experience show-floor demos of the latest products and services that most interest you. Interested in scheduling a meeting with Dejero? Get in touch to book some time to connect. Obviously you won't be able to schedule meetings with everyone. A huge benefit to to such a large gathering of the world's most innovative minds and companies is the networking potential. Walk the floor and peruse the stands, attend social events, and make new connections. Don't forget your business cards!



Attend the awards ceremony
Anyone registered for IBC2018 can attend the awards ceremony that celebrates the people and organizations shaping the future of the industry with their innovation, forward-thinking, and collaboration. Check out a summary of last year's winners here for insight into the awards that will be up for grabs at the 2018 show. It's an amazing showcase of the most exciting and stimulating content from the year. Speaking of awards, Dejero CellSat, that debuted in Europe at the Royal Wedding of Prince Harry and Meghan Markle, was the proud recipient of the TV Technology Product Innovation Award at IBC2017. This year, Dejero CellSat has been shortlisted for the CSI Awards in the Best Network Delivery Technology category. The ceremony is an awesome recap of some of the best tech at show. Good luck to all the finalists!
Of course Dejero will be at IBC2018 showcasing the latest connectivity solutions at stand 11.C15 - new location! Check out this preview of what we'll be showing at IBC2018.

See you there!